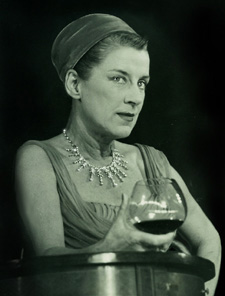 Before Lucille Ball or Carol Burnett, Lily Tomlin, Tracey Ullman or Whoopi Goldberg, there was Beatrice Lillie.
Hailed as "the funniest woman of our civilization" by her friend and colleague, Noel Coward, Lillie was among that indivisible cadre of the "marvellous party" set that included Coward and Lillie's other close friends Gertrude Lawrence and Tallulah Bankhead. Her world was populated by the famous and accomplished of her time; the British Royal Family, Greta Garbo, Winston Churchill, Charlie Chaplin, Fanny Brice, Bing Crosby, Rudolf Valentino, Clark Gable and Cole Porter comprise a sample of her "shortlist."
"I was born at a very tender age because my parents needed a fourth for dinner."
Born Beatrice Gladys Lillie in Toronto, Canada on May 29, 1894, her remarkable international career began on the London musical stage in 1914. She entered show business much earlier, however, as the youngest musical member of the "Lillie Trio," with her mother Lucie and sister Muriel. This plucky ensemble, performing romantic ballads and popular ditties, concertized for friends, appeared in local theatres, and once toured mining camps in eastern Canada.
Lucie Shaw Lillie, a concert singer and by all accounts a dominating stage mother, was choir director of the local church. Both girls sang in the choir and were encouraged toward musical careers at an early age. Young Bea was forced to take lessons in "dramatic gesture, elocution and mime" from a man named Harry W. Rich. These same "Rich gestures," put to comic effect, were to stay with Bea throughout her career.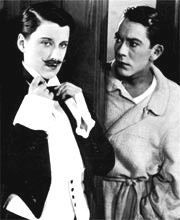 Lucie doted on Bea's sister Muriel, envisioning her a budding concert pianist. Their attempted sojourn to Germany to study music was aborted when World War I broke out. Bea joined her mother and sister in London, where she gravitated to London's theatre district in search of a career as a ballad singer. Her first break came after she spoofed several popular ballads in her audition for producer Andre Charlot, and was engaged for the revue "Not Likely." As the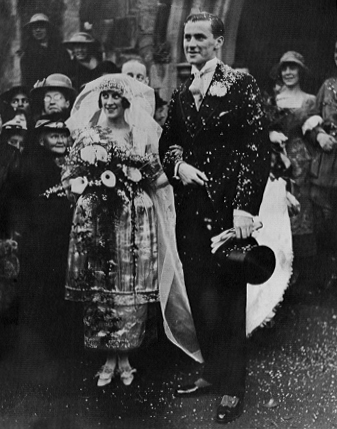 war channeled Britain's young men to the front, Lillie, with her androgynous good looks, found herself in the lucrative catbird seat of male impersonator in wartime theatrical revues. In a tuxedo, a top hat, and a greasepaint mustache, she was "the best-dressed transvestite in London."
In 1920 Lillie married British nobleman Robert Peel, a direct descendent of Prime Minister Robert Peel II who founded the London Metropolitan Police Force in the early 1800s (from whence comes the sobriquet "bobbies"). Bea and Robert were wed at the Church of St. Paul, near the Peel family seat in Staffordshire. Their one child; Robert Jr., called "Little Bobbie," was born the same year.

With the death of her father-in-law and the succession to the baronetcy of her husband in 1925, Bea became Lady Peel, (a title she was never to use in show business) much to the delight of her mother, who had commanded Bea to "be a lady" from childhood.
"Lillie and Lawrence, Lawrence and Lillie. If you don't see them, you're perfectly silly."
Bea made her American debut in "Charlot's Revue of 1924." In the era of spectacular Broadway stage shows the simple little British revuew was an instant sensation, as were Bea and costars Gertrude Lawrence and Jack Buchanan. All three became international stars. Originally booked for six weeks, the run lasted fifteen months. Before it was over, Hollywood, still in the pre-talkie era, beckoned.
"I played an understudy who was such a lowly member of a theatrical troupe that she had to play the role of 'Nothing' in 'Much Ado About Nothing.'"
Lillie's one starring silent vehicle was the screwball romantic backstage comedy "Exit Smiling" (1926). Though she didn't capture the attention of the American moviegoing public, her stage career flourished. The years 1926 through 1939 found her sailing back and forth across the Atlantic, appearing in nearly every performing medium of the day: theatre, radio, cabaret, even vaudeville. Often performing two shows a day, Bea worked her way out of the debts incurred by her gambler husband while her adored son Bobbie was raised in England by Bea's mother, Lucie.
"Two doozen dammel dizzeck danner nipkins."
In the 1930's Lillie rose to the height of her theatrical fame. In the 1935 Broadway review "At Home Abroad" she played Mrs. Blogden Blagg who tries to order "two dozen double damask dinner napkins" with tongue-twistingly hilarious results. In 1936 she starred in the long-running "The Show is On" with Bert Lahr and Reginald Gardner. She appeared on the radio in 1935 as "Auntie Bea" and in the 1938 film "Dr. Rhythm" with Bing Crosby.
"A lady in her own wrong"
Bea's marriage to a British Lord had fallen short of the stuff of fairy-tales. She and her husband chose to live apart. In 1934 Sir Robert died of peritonitis in the arms of his mistress and Bea's son Bobbie, then thirteen, succeeded his father as sixth baronet. Among the men in Bea's life in the 1930's were playwright Charles McArthur (who later married Bea's friend actress Helen Hayes), theatrical manager Eddie Duryea Dowling, and comedy writer Robert "Doc" McGonigle, who would leave the theatrical world to become a trappist monk. Bea continued to perform; her stage career keeping finances out of the red. Fortunately she had plenty to do, caught in a merry tug of war between the New York and London stages.
"Mad about the boy..."
Lillie's professional association with Noel Coward was a lengthy and glorious one, though beginning under a slight cloud when Bea landed her young friend Coward an audition for producer Andre Charlot, and Charlot, under most circumstances a shrewd judge of talent, told Bea that Coward sang badly and played worse. In years to come Bea was to introduce some of Coward's most famous songs including
"Mad Dogs and Englishmen," "Mad About the Boy" and "I've Been to a Marvellous Party." She performed his music and material in "Charlot's London Revue of 1924," "Charlot's Revue of 1926," "The Third Little Show" (1931), in Coward's shows "This Year of Grace" (1928) and "Set to Music" (1939), and in his musical spoof "After Dinner Music" performed by Bea on vaudeville's Orpheum Circuit.
C'est Lady Peel qui parle
Possibly the most-told Lady Peel anecdote is this one: While Lillie was starring in the Chicago production of "Set to Music" she visited Elizabeth Arden's salon, finding the girls of the show's chorus already there being coifed. The wealthy Mrs. Armour of the meat-packing company of the same name, flustered at waiting behind Lillie and the others, boomed "If I'd known there would be chorus girls here today, I would never have come!" Bea, on her way out, quipped to the salon manager, "You may tell the butcher's wife that Lady Peel has finished."

"Madly keen to entertain the trroooops."
With the outbreak of war in 1939 Lillie returned to England, one of the first stars to entertain the troops during World War II. She performed in several shows in London and toured Army bases in the Mediterranean, Africa and the Middle East, receiving the Africa Star, the King George VI Medal and from General de Gaulle himself, the French Liberation Medal. Her son Bobbie (Sir Robert) joined the British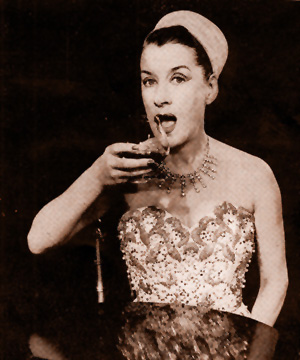 Royal Navy. In April of 1942, shortly after his 21st birthday, he had just arrived in Colombo, Ceylon (now Sri Lanka) to report for duty on the aircraft carrier Hermes, when all the sirens in the harbor went off, indicating an air attack. Bobbie raced down to the harbor and boarded the carrier to see how he could help. He was barely on board when Japanese bombers struck. Receiving the news that her son was missing in action, Bea went on with her performance in London that night. She later recieved confirmation that Bobbie had been killed. Again, the show went on. For many years she refused to accept that he would not return.
"Come, Oh Come to Pittsburgh!"
Back home she went for healing--back to the stage. She spent the next few years between England and America. In 1944 she made a triumphant return to the American stage in "Seven Lively Arts." During the 1948 Broadway show "Inside USA" Bea introduced her trademark pearl swing duing the song (yes, really) "Come, Oh Come to Pittsburgh." In that show she met a young singer named John Philip Huck. A big man, he carried Bea onstage every night for her opening scene as the Massachusetts Mermaid.
Despite their disparity in ages, Bea and John became a couple, and were companions for the rest of their lives, with John Philip, as he was now called, taking over the management of Bea's career.
Enchanted "Evenings with..."
In 1952 Bea began a tour of summer theatres in "An Evening with Beatrice Lillie," costarring Reginald Gardner. The show ran for a year in New York, then toured the United States, Canada and England until the end of 1955. In 1953 Broadway paid her its highest compliment: a Tony Award. Brooks Atkinson called Lillie "the most brilliant comic spirit of our time."
From Atkinson's New York Times review: "Geniuses on the stage are always highly individual, no matter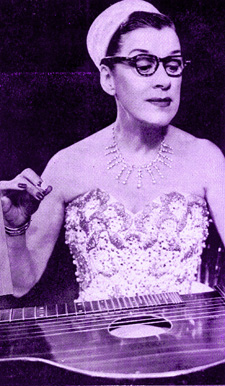 what they happen to be playing. So it is with Miss Lillie in this show. The slender sharp-featured lady with the polite, embarrassed smile and the dainty manner dominates the material, the stage and the theatre. She radiates satiric comedy even when she is standing still. She sits at a table and looks blank: it is funny. She pauses for a beat in a song: it is funny. She sits at a table and looks blank: it is funny. It almost seems as though her thoughts were funny. For she is one of the most eloquent actresses of the theatre, and she can set the audience to laughing without saying a word, singing a note or making a gesture."
"Milady Dines Alone"
In "Ziegfeld Follies of 1957" Bea favored Broadway audiences with one of her funniest sketches; "Milady Dines Alone," in which she devoured asparagus, corn-on-the-cob, artichoke and lobster, all dipped in butter, while wearing long black gloves. She did a year's London run of "Auntie Mame" in 1958, and in 1960 brought "Late Evening with Beatrice Lillie" to the Edinburgh Festival.
"Something is coming to tea..."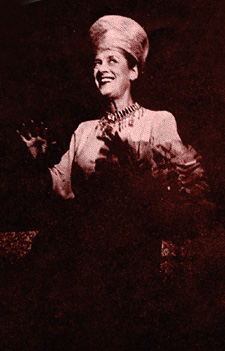 Her many TV appearances in the 1950's and early 1960's included "Four for Tonight" with Tony Randall, Cyril Ritchard and Tammy Grimes, "The Four of Us" with Ethel Merman, Ray Bolger and Benny Goodman, "The Star-Spangled Review" with Bob Hope and "Toast of the Town" with Ed Sullivan.
Beatrice Lillie made her final and triumphant Broadway appearance as Madame Arcati in "High Spirits" by Hugh Martin and Timothy Gray, a musical adaptation of Noel Coward's "Blithe Spirit." The show, directed by her old friend and colleague, Noel Coward, received mixed reviews, but critics were unanimous in their raves for Lillie, the bicycle-riding, bunny-slipper-wearing medium who sings love songs to her ouija board. During the run of "High Spirits" Bea's genius for improvising comic business for a receptive audience often extended the running time of the show as much as thirty minutes.
"Thoroughly Modern Lillie"
Throughout her career Lillie made occasional appearances before the motion picture camera. She starred in "On Approval" alongside Clive Brook, who also directed. She did a cameo as a Salvation Army matron in Michael Todd's star-studded blockbuster "Around The World In Eighty Days," and in 1967, gave her most satisfying film performance in "Thoroughly Modern Millie," playing the white-slaving landlady Mrs. Meers, a supporting role to then up-and-coming star Julie Andrews.
Woefully even then, the movie camera somehow could only glimpse her. Bea needed a living, breathing, laughing audience in front of her--not a soulless, mechanical, one-eyed beast. Her comic genius was rarely captured on film.
"Peels of laughter..."
By the close of the 1960's Bea's memory was fading, but not her spirit. Like any good Grand Dame of the Theatre, she headed for the newest spotlight in town. Bea hit the television talk show circuit. She took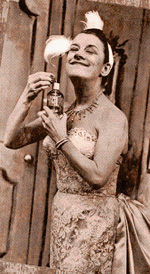 several turns in the guest's chair next to Jack Paar, and a few with his young successor Johnny Carson. But Father Time was knocking on Bea's dressing room door. In the mid-1970's, after the completion of her autobiography "Every Other Inch A Lady," Bea suffered a series of strokes. She and Huck moved from their New York apartment on East End Avenue to Bea's house "Peel Fold" at Henley-on-Thames, England. There, immobilized by failing health, she spent her remaining years.
"Exit Smiling"
On January 20, 1989, at the age of 94, Beatrice Lillie exited, one would hope, smiling. John Philip Huck, her partner in life for nearly 40 years, died the next day of a massive heart attack. They were interred together near the graves of her mother and sister, in a cemetery not far from Peel Fold. "I hear you calling me," was the solo at the funeral requiem, a song Bea had sung as a child in her mother's church choir.
------------------
Article compiled by Rob Foster and Layne Littlepage,
with additional information by Stewart Stern.
Main Sources:
Atkinson, Brooks; "At the Theatre" October 3, 1952, The New York Times
Brownlow, Kevin; "The Parade's Gone By" 1976, University Of California Press
Laffey, Bruce: "Beatrice Lillie, the Funniest Woman in the World" 1989 Wynnewood Press
Lillie, Beatrice; "Every Other Inch A Lady" 1972, Doubleday
Mitchell, Glenn; "The A-Z Encyclopedia Of Silent Film Comedy" 1998, Batsford B.T. Limited